I know it's a little early to start thinking about Halloween, heck most of us are just starting our summer vacations, but if you are a Halloween enthusiast you might be starting to think about what kind of costume you'll wear this coming Halloween. I know I am!
I love Halloween. Sometimes we'll have Halloween parties with our friends, and other times we just decorate the house, the lawn and wear silly costumes just to greet the kids that come to our door. I think all the kids in our area know to come to our house now since we do something different each year and of course we give out the best treats!
We haven't decided what kind of costumes we'll dress up in this year but I've been looking at the selection of costumes at BuyCostumes.com and I think I might have a few ideas as to which halloween costumes we might try.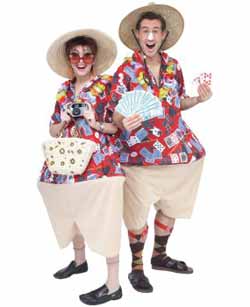 We went to Vegas last year for a blogging convention. It was our first time in Vegas and man, we weren't prepared for how busy, flashy and well .. gaudy it was all at the same time. In light of our trip, maybe their Tacky Vegas Tourist costumes will fit the bill.
Trish and I both have quite the sense of humor so when we dress up for Halloween we often go for something humorous. That or a horror costume. Make them laugh or scare the heck out of them we say!
The great thing about looking for Halloween costumes, decorations and Halloween related accessories a little bit early is that almost all of the costumes will still be in stock and you can take advantage of early bird or clearance sales.
BuyCostumes.com is supposed to be the leading distributor of costumes and costume accessories. So whether you are looking for adult costumes or something for your kids to wear this Halloween you'll be sure to find a great selection at good prices. They even have costumes for your pets too! Hey … now that we have a dog maybe we'll dress her up too. Now that's an idea.
Do you enjoy Halloween? Have you started to think about what you'll dress up as this Halloween?
Share and Enjoy