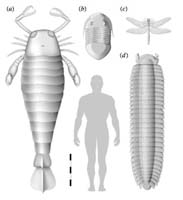 British scientists have discovered the fossilized claw, thought to be part of an ancient sea scorpion, that is so large that this would make the entire creature the biggest bug ever discovered!
It's believed that the bug would have been at least 8 feet long.
The discovery in 390 million year old rock suggests that spiders, crabs, insects and similar creatures were much larger than what we've believed in the past. Simon Braddy, University of Bristol Paleontologist and one of the studies three authors states:
"We have known for some time that the fossil
record yields monster millipedes, super-sized scorpions, colossal cockroaches, and jumbo dragonflies. But we never realized until now just how big some of these ancient creepy-crawlies were," he said.
The study was published this past Tuesday in the Royal Society's Journal Biology Letters. It's believed that these scorpions would have been dominant for millions of years but were eventually wiped out as larger fish with big teeth and jaws evolved.
The claw was found several years ago by Markus Poschmann. It was found in a quarry near Prum, Germany and it's believed this area was once an ancient swamp.
"I was loosening pieces of rock with a hammer and chisel when I suddenly realized there was a dark patch of organic matter on a freshly removed slab. After some cleaning I could identify this as a small part of a large claw," said Poschmann, another author of the study.
"Although I did not know if it was more complete or not, I decided to try and get it out. The pieces had to be cleaned separately, dried, and then glued back together. It was then put into a white plaster jacket to stabilize it," he said.
I don't know about you, but I'm sure glad that insects are of a more manageable size these days!
Share and Enjoy